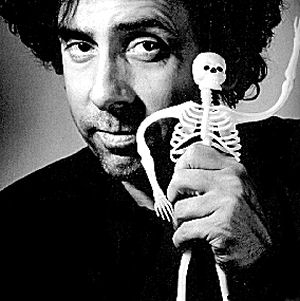 Good evening! Tonight's post was inspired by this article in which the author argues that Tim Burton is one of several "genius" artists who created his best works by accident. He explains that the "best parts" of Burton's films are the result of a great performance or an excellent screenwriter or composer, rather than the vision and ability of the director.
And I have to admit that when I saw the trailer for Dark Shadows I thought it was a joke. You mean to tell me that Burton, Johnny Depp, and Helena Bonham Carter are in yet another movie in which Depp plays pale and quirky? No thanks.
And the truth is, the points the blogger makes are valid.
I doubt anyone would argue that Tim Burton would be TIM BURTON without Danny Elfman. I doubt that anyone could have played Edward Scissorhands as well as Johnny Depp did. Jack Nicholson, Michael Keaton, Ewan McGregor, Billy Crudup; the little guys who played the Martians in Mars Attacks…
All brilliant performances, all great, all key to the success of the films.
But that's just it. A film is the result of a director's vision. If Burton hadn't been making a movie, all of those wonderful actors and composers and set designers and makeup artists would not have even been there! 
Additionally, it is well known that one of the biggest films in history, Jaws, was a disastrous mess until the film editors and the music were added later. Is that to say that Spielberg was a hack who did what he did by "accident?" Or did the professionals who were hired to assist the director in realizing that vision simply, you know, succeed?
Ok, I'm running a bit longer than planned tonight. But I ran through IMDb and looked at the filmography of one Mr. Tim Burton and it's a very impressive list. I skipped the movies that sucked or that I haven't seen, but everything else is a classic. To me, anyway. Hell, at least 5 of these movies are probably in my top 10 favorite movies ever.
You don't create this much awesome by accident.
Enjoy!