Hello Minions.
Tonight we have a gruesome guest post by our friend London McGuire. Please welcome London to the Coven.
Unnatural Cravings: Top 5 Fictional Cannibals
           Looking for something to satiate your hunger for truly horrifying entertainment?  Need new characters to spice up your usual fare of axe-murderers and zombies?  From traditional horror to sci-fi and even musicals, these culinary criminals provide some of the most frightening (and disgusting) moments in television and movie history.  While there are many other fictional cannibals worthy of your attention, these five are the prime cuts based on their deliciously evil crimes, popularity and overall creepiness.
5.) Kevin (Sin City: The Hard Goodbye, 1991-92; Sin City, 2005)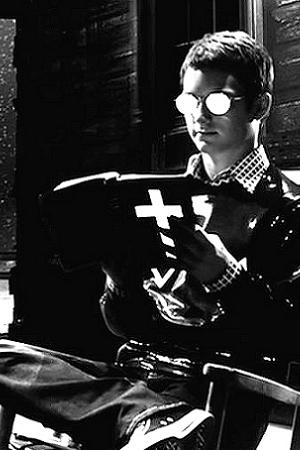 Originally from Frank Miller's 1991-92 graphic novel Sin City: The Hard Goodbye, Kevin is also one of the main antagonists in the 2005 film version, Sin City.  Played by Elijah Wood, this sadistic serial killer manages to evoke a gruesome sense of terror without ever uttering a word.  In both the film and the book, Kevin preys on the fictional city's prostitutes, keeping them in the basement of Cardinal Roark's family farm where he kills and eats them, mounting their heads on the wall like hunting trophies.  After killing Goldie, the main love interest of the story's hero Marv, Kevin imprisons both Marv and his parole officer Lucille before being overpowered by Marv and subsequently fed alive to his own nefarious pet wolf.  The image of Kevin, in both the book and the movie, smiling pleasantly behind his reflective glasses while being eaten alive by his own pet is both disturbing and haunting.  This makes him one of the most delectable cannibals around.
4.) The Reavers (Firefly, 2002; Serenity, 2005)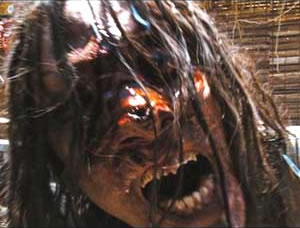 From the short-lived, cult-classic sci-fi series Firefly, the Reavers offer not just one cannibal, but an entire group of them.  Seemingly driven mad by the vastness of space on the fringes of the star system, the Reavers are a community of savage, animalistic humans.  They engage in self-mutilation and raid the ships and colonies of other humans.  After subjecting their victims to torture, rape, murder and cannibalization, they often decorate the outsides of their ships with the bodies of the dead.  Every character on the show fears the Reapers and no one seems to know exactly where they came from.  The true origin of the Reavers is revealed in the movie Serenity, but suffice it to say that these marauding space killers definitely earn their place at the table of top cannibals.
3.) Sweeney Todd and Mrs. Lovett (Sweeney Todd: The Demon Barber of Fleet Streeet, 2007)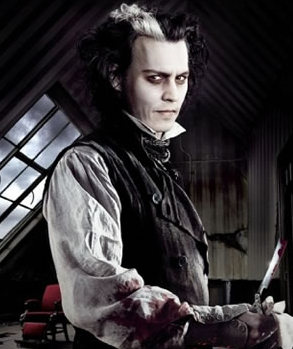 By far the oldest, and most musically-talented, of the group is Sweeney Todd.  The character originally appeared in an English penny dreadful called The String of Pearls in 1846-47.  He is best known today from the Stephen Sondheim musical adaptation of 1979 and the 2007 film version directed by Tim Burton, starring Johnny Depp.  In every version of the story, Todd is a barber whose shop is located on Fleet Street in London next to St. Dunstan's Church.  He kills his victims by pulling a lever that tips his barber chair over and dumps them into the basement of his shop where he then "polishes them off" with a straight razor.  To dispose of the bodies, he employs the aid of a Mrs. Lovett who runs a nearby pie shop.  Mrs. Lovett bakes the victims' bodies into meat pies that she then sells to her unwitting customers.  Though they are not cannibals themselves, both Sweeney Todd and Mrs. Lovett manage to make the cut because of their longevity and the fact that they in turn created cannibals through their barbaric baked goods.
2.) Leatherface (Texas Chainsaw Massacre, 1974)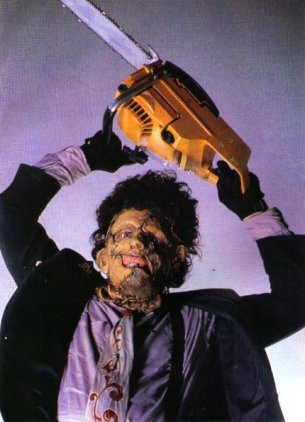 One of the most iconic figures in all of horror, Leatherface possesses an appetite for depravity and home-made BBQ that will turn any stomach.  The first Texas Chainsaw Massacre appeared in 1974 and followed a group of friends as they are terrorized, and even consumed, by the sadistic Sawyer family.  Leatherface used to work at a local meat factory.  His family employs his slaughter-house skills and signature chainsaw to kill and butcher victims.  The Sawyers then use their flesh to make BBQ and chili, which they sell at the "Last Chance" gas station.  The family's recipe even earned several cook-off awards for their delicacies.  Through numerous sequels and remakes, including the excellent 2003 reboot and the most-recent 3D offering, Leatherface has remained a universally horrifying character and the main villain of the franchise.  For his blue-ribbon tastes and always terrifying chainsaw chases, Leatherface ranks number two on the list.
1.) Hannibal Lector (Manhunter, 1986; The Silence of the Lambs, 1991; Hannibal, 2001; Red Dragon, 2002; Hannibal Rising, 2007)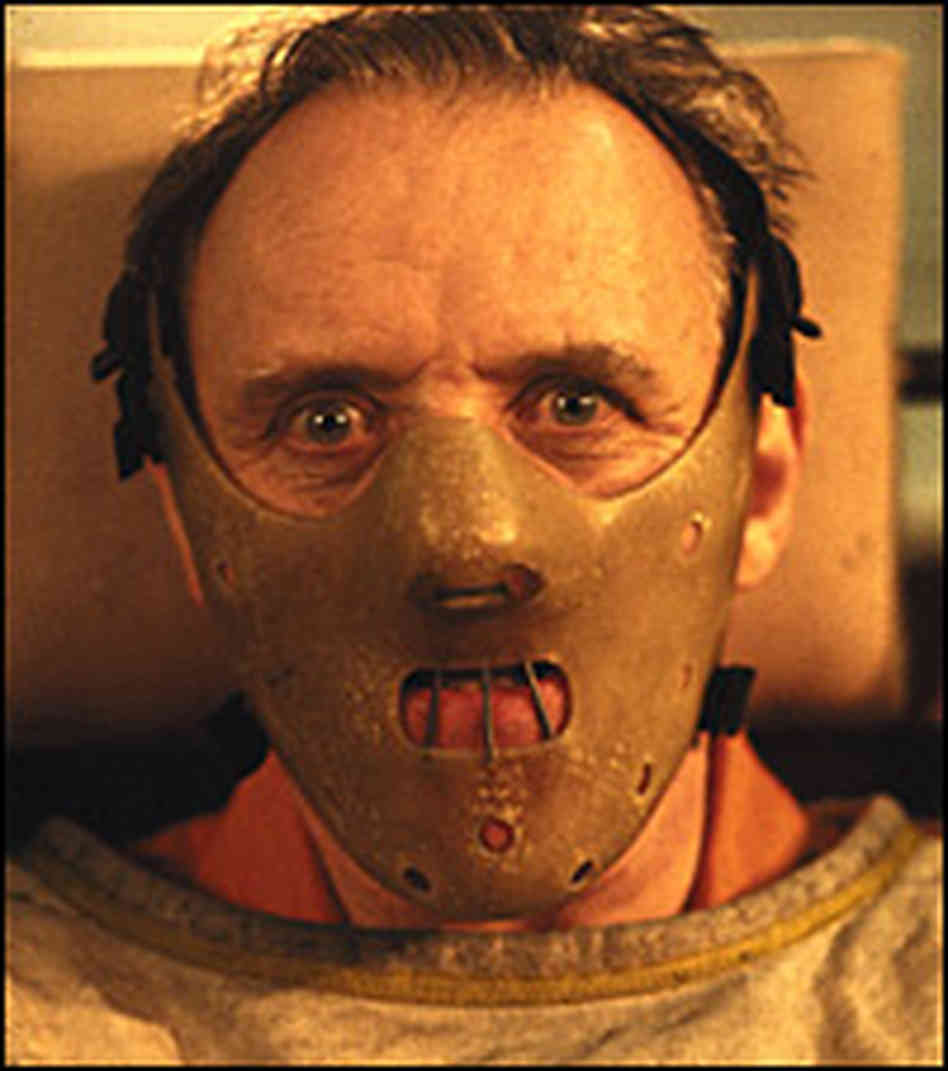 You probably saw this one coming but that doesn't make him any less hungry.  The name Hannibal itself is now synonymous with cannibalism thanks to the enduring popularity and menace of the "Chesapeake Ripper."  Originally introduced in Thomas Harris's 1981 novel Red Dragon, Dr. Hannibal Lecter is portrayed as a brilliant psychiatrist and cannibalistic serial killer consulted by the FBI in its pursuit of other killers on the loose.  First portrayed by Brian Cox in the 1986 film Manhunter, Lector became a cultural sensation thanks to Anthony Hopkins' role as Lector in The Silence of the Lambs (1991) and then again in Hannibal (2001) and Red Dragon (2002).  With his polished, refined exterior masking his brutal, psychotic impulses, Dr. Lecter has remained one of the most complex and chilling characters in American fiction and cinema.  His most recent manifestation in the 2013 NBC series Hannibal has further added to his bloody legacy.  Played by the superb Mads Mikkelson, this latest Lector brings a more sinister, satanic reserve to the role, walking a fine line between monster and maître d.  On the page and on the screen, Hannibal Lecter remains at the head of the table of best cannibals.
Get a taste for the best in gruesome entertainment with these five connoisseurs of human anatomy.  But be careful, they'll eat your heart out.
London McGuire is a freelance writer and contributor for WeLoveTVMore.com. In addition to the horror and thriller genres, she enjoys writing about sports, great food and anything related to television or movies. Follow her on Twitter @londonmcguire.
If you liked this post please consider joining our email list, liking us on Facebook, or following us on Twitter and Pinterest using the various buttons scattered about the site. Also, please let us know how we're doing by leaving a message in the comments section below.