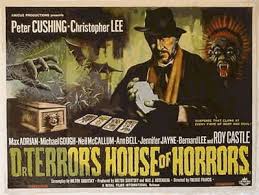 "A more exact translation would be terror. An unfortunate misnomer, for I am the mildest of men."
– Dr. Schreck
Only fans of Horror Cinema might know Amicus Productions. Founded by Milton Subotsky and Max Rosenberg, their first two films were "It's Trad, Dad!" (1962) and "Just for Fun (1963), both musicals. These two weren't the flicks that this film production company would be renowned for. I was referring to their horror anthologies.
In 1945, Ealing Studios released "Dead of Night", starring Mervyn Johns and Michael Redgrave. Walter Craig (Johns) came to a country house party, where he had been tranced. It was the assembled guests, whom he had seen in his dream. This prompted five of the guests to talk about supernatural events that they experienced, attempting to test Craig's foresight. This flick, directed by Cavalcanti, Charles Crichton, Basil Dearden, and Robert Hamer, featured five different stories, linked by Craig's dream. Horror films were banned in Great Britain during World War II, but these four filmmakers relied on uncanny scenarios. This would inspired Amicus to produce their own kind of horror anthology, only to refine what Ealing did.
In 1965, "Dr. Terror's House of Horrors", which would be the first of the series, was shown. It featured Christopher Lee and Peter Cushing, who became famous for playing Count Dracula and Professor Van Helsing respectively. Unlike the horror flicks of Hammer Film Productions, these flicks don't rely on Gothic-inspired production design to elicit fear.
"Dr. Terror's House of Horrors" would mislead some moviegoers, as this was Dr. Schreck's term for his tarot cards. He looked like the Grim Reaper upon his arrival in the train station, which his fellow rail passengers didn't notice. They were Jim Dawson, an architect, Bill Rogers, who came from a holiday, Biff Bailey, jazz musician, Franklyn Marsh, art critic, and Bob Carroll, doctor. These fellows were curious about the cards, prompting Dr. Schreck to tell about their future – and told their stories, accurately,
based from the cards they chose.
Jim visited his former home in an unnamed Scottish isle, unaware of a secret lying underneath the house. Bill, on the other hand, find it hard to leave his house, covered by vine, which had homicidal tendencies. Biff had a gig in the West Indies, where he witnessed a local voodoo ceremony. The music inspired him, such that he copied the melody in a jazz composition he created after his return home. Franklyn's devastating wit made him a main attraction in art galleries, until he met his match. Last but not the least, Dr. Bob Carroll returned to America with his new French bride. It must have been a whirlwind romance, as he don't have a clue on where she came from.
Subotsky's screenplay was no different than Hammer's feature on vampire (or werewolf, for that matter.) A discerning viewer would overlook Alan Hume's cinematography, which had a spellbinding effect. It made me believed that something sinister was about to take place. Cushing, in the titular role, looked like a villain from a Grimms' fairy tale. He was sweet yet dangerous, perfect for the part.
My favourite segment was "The Disembodied Hand", about that body part that came to life, seeking revenge for a wrongdoing. It seemed absurd whenever I thought long and hard about it, until it dawned on me that this what made Horror Cinema tick. This could be said for the other segments, as well for the succeeding flicks in the series, namely "Torture Garden" (1967), "The House That Dripped Blood" (1970), "Asylum" (1972), "Tales from the
Crypt" (1972), "The Vault of Horror" (1973), "From Beyond the Grave" (1974), and "The Monster Club" (1980). ("Tales That Witness Madness" and "The Uncanny" were part of the anthology, but both were not by Amicus.)
"Dr. Terror's House of Terror" could have been made ambiguous, like Jack Clayton's "The Innocents", the result of which would have been a haunting picture. But the unsettling setting and Lee and Cushing made it up. In other words, it was frightening enough to scare anyone.
Simon Huddart studied Film and Literature, had a stint in a UK essay writing company, and did some freelance jobs in writing and proofreading. He would like to pursue a graduate degree next year. Check out his blog and Google+ account.