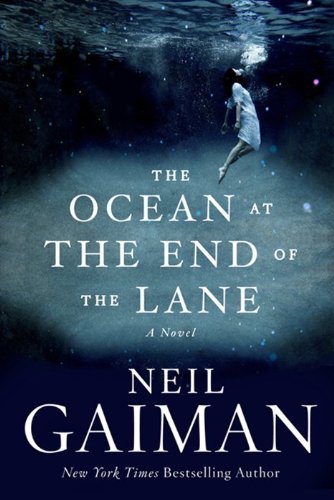 I was in high school when I first read The Sandman: Preludes & Nocturnes and it changed my life. I've read and re-read the Sandman series dozens of times over the years and have loved every page and panel. When Gaiman broke out of the comics world and released Neverwhere, I was first in line to buy it. Well that's not actually true. There wasn't a line to buy it. I just walked in and grabbed a copy. But had there been a line, I would have probably been close to the front. And I've gotten everything else pretty much on the day it was released.
I've been a serious fan of Gaiman's work for more than 20 years, which really, really makes me feel old. But it also means that I am far more than familiar with his work. He's my favorite author by no small stretch. Because of that, this review is a little difficult to write because it hurts not to be able to give a Neil Gaiman book all the thumbs and stars available and then some. Unfortunately, The Ocean at the End of the Lane left a lot to be desired and so doesn't get as many thumbs and stars as his other books.
I ordered a signed copy online and because of the overwhelming demand putting pressure on booksellers, I got mine a day or two after the official release. At that time there were already so many gushing reviews that I more or less had to ignore the internet for two days because I was afraid it would be spoiled before I got my copy. I understand that some people have still not received their orders as of this date, so I warn you that this review does have spoilers in it. But I'll let you know before we get there.
So the first disappointment was the size of the book. I know that may seem a little bit of a cheap criticism. I know. Some of the finest stories I have ever experienced were very short. I get it. But dude. Anansi Boys, Gaiman's last "adult" novel came out in 2005. That's a long time to wait for what is essentially a single-sitting novella. Now sure, we've had Gaiman stuff coming out at different intervals over the years, so it wasn't a complete Gaiman drought. But after this long, I think we were all hoping for an epic on the scale of American Gods. Hell, even The Graveyard Book– it's supposed to be a children's story and it's almost twice as long as Ocean. 
I stood there holding my copy and hoped that it would be at least really, really good for being so tiny. And it was. It was really, really good. It's very beautifully written and very personal. It's a melancholy nostalgia piece about childhood and loss and innocence, and the inevitability of not only growing up, but growing old.
The Plot (Warning: possible spoilers)
A man comes home for a funeral and wanders around the town, ending up in the neighborhood where he grew up. He goes past his old house, long since demolished and rebuilt, and down the lane to the Hempstock farm, where his friend Lettie used to live. He wanders around the back to the duck pond, which he remembers Lettie always called, "the ocean." He sits down and stares at the water, and he begins to remember events that occurred when he was seven years old.
His family, having fallen on hard financial times, has taken in boarders. One of the boarders commits suicide in the family car after driving it down the lane close to the Hempstocks' land. The boy and Lettie become friends and when strange things begin to happen, they set of on an adventure together. They find a strange creature made of cloth and Lettie reveals that she and the other Hempstocks have magical powers. She binds and attempts to banish the creature but the monster finds a way to keep from being cast out. It returns in the form of an especially nasty nanny who moves in and sets about terrorizing the boy. But he is powerless because she is a grown up and regardless of how mean she is, the adults don't listen to him.
The story is, again, a sad look at a small child's attempts to make sense of malice and stress when his world begins falling apart for reasons that are far outside of his understanding or control. How much of the events are real or imagined is difficult to tell, even for the narrator, and this is one of Gaiman's signatures and greatest strengths. He deals in matter-of-fact magic all the time so to question what happened or why or if it even happened at all is a futile thing to try and figure out.
You're off the map. Here there be spoilers. 
So another criticism I have, which probably could have been solved with another 100 pages or so of story, is that the events happen so quickly that we never really get to know the Hempstocks.  They are never concerned at all about any of the monster stuff going on. They repeatedly call the creature who is tearing the boy's family apart and thoroughly terrorizing him a "flea" because its power is so insignificant to them.
The elder Hempstocks let Lettie, the youngest and least powerful, deal with pretty much everything and she's always pretty confident because whenever things start to go anything other than her way, all she needs to do is go get Gran. The boy has all faith in Lettie too, so whenever they do face danger, it just never seems all that dangerous. And the fact that none of the Hempstocks can or will die from anything makes Lettie's sacrifice at the end just a little less than complete. It's not as compelling if your hero can't lose.
While I felt for the boy, who is pretty clearly Gaiman himself, for all the sadness and trouble his family went through in real life, I just never really had any doubts that Lettie would defeat the monster and the boy would just go home. There just wasn't enough there.
Conclusion
I don't want you to come away thinking that I didn't like this book. Unfortunately reviews sometimes focus on the negatives and when it's your favorite author you feel the need to do a little deeper dive to make sure you're playing fair.
The Ocean at the End of the Lane is an extremely good book. It's just not as good as I think it could have been.

Copyright secured by Digiprove © 2013