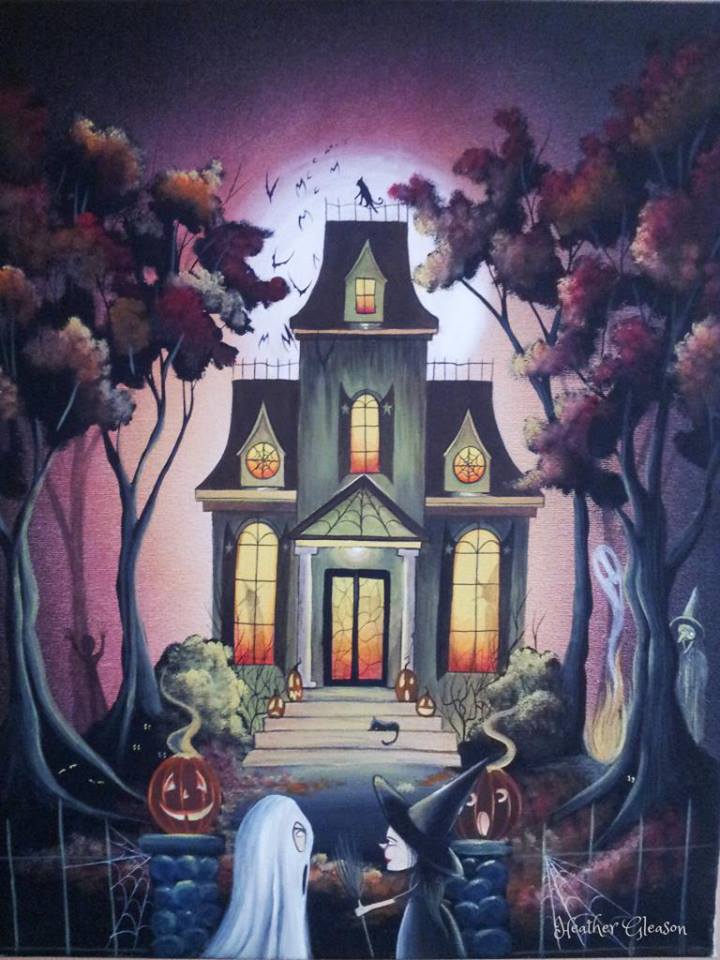 I've probably mentioned before that it's really hot where I live. Halloween, outside of the regular fun it brings, also means that we can go outside and play again. It's the harvest and the promise of holidays, cold air, wood smoke, and festivals. It's not just a day or a month; it's a feeling. Unfortunately, that feeling is seasonal and, for me anyway, gone all too quickly.
So, I spend my time looking for things that keep that feeling alive. I scour the internet looking for stuff that truly defines the meaning and the spirit of my favorite time of year. A while back I was doing some scouring and I came across an artist who captures both the meaning and the spirit perfectly. When I saw Heather Gleason's art I immediately felt a cool northerly breeze and caught the scent of caramel and cinnamon and burning leaves…
She graciously accepted my request for an interview so without further ado, please welcome Heather Gleason to scarydad.com!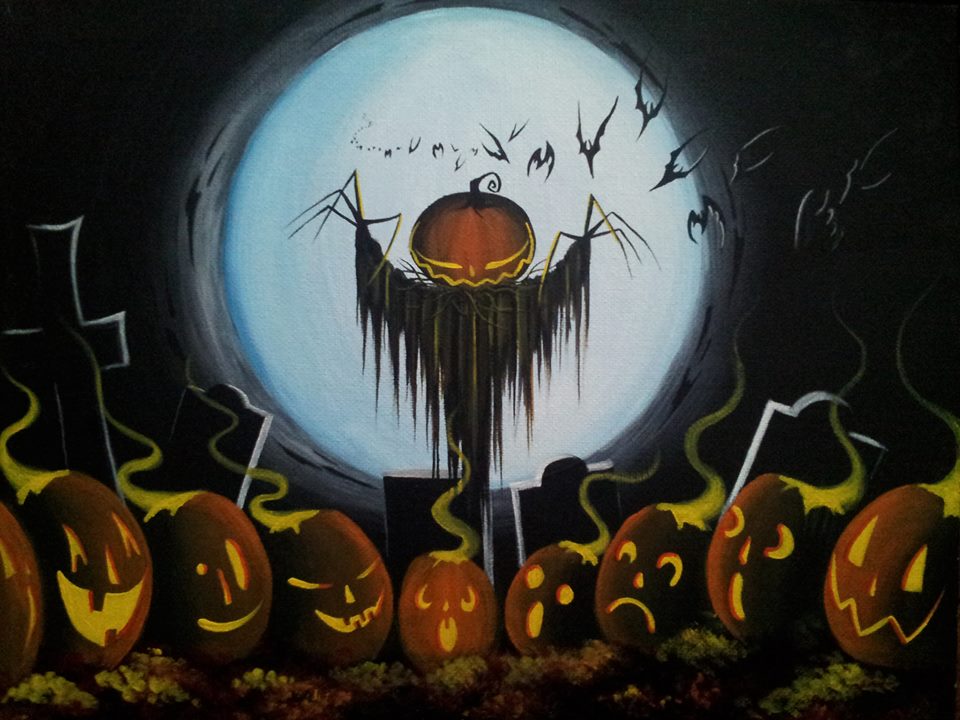 Thank you Heather for taking a few minutes to speak with us.
First of all, let me just say that your art is supremely cool and if my wife would let me I'd buy all of it and completely redecorate my house. As it is I'm browsing your Esty shop and am going to pick up a print or two for my office.
Heather: Thank You I appreciate your support!! You gotta fill your life with the things you love 🙂
SD: How long have you been making this kind of art and how did you come by it?
Heather: I have been creating creepy since a kid. I started out with dragons and fairies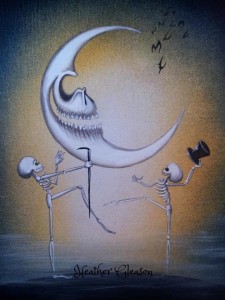 then switched to ghosts, haunted houses, and Dracula. By the time I was in high school I was drawing skeletons crawling from the ground to female corpses laying around in their mausoleum. My drawings were always mismatched- never the same thing- so i would mix fashion in with death, to buildings and houses, to mapping out my own little cities. In the long run as I got older and my schizophrenia got a hold of me I would create the images that would pop in my brain everyday they would not go away until I created them. So my brush is my friend; we get along very well in that we create some fun yet bizarre, spooky pieces.
SD: Are you a big fan of horror movies and if so, which ones?
Heather:I LOVE HORROR!! My mother should be here to answer this one for you. In the 80's when I was a kid, horror seemed to be the coolest thing. And to grow up in such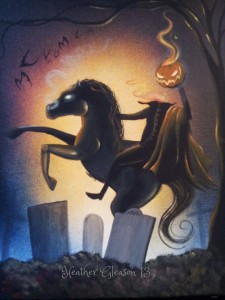 time… It was a GREAT time to watch horror movies. On weekends my family would go to the movie rental store. My mother would let us kids pick out a movie. I ALWAYS went straight to the Horror/ sci fi section. No one else would sit and watch the movies with me but my mom, haha! I was 8-9 years old watching these creepy ass movies… my mom always thought i was a weird little kid. lol! Of course, any sex scenes she would fast forward through. haha! I love Ghost stories. I was never really into torture movies… Well, maybe some, but most movies like The Exorcist, Burnt Offerings, Spider Baby, The Original Texas Chainsaw Massacre, Silent Hill, The Evil Dead, A Nightmare On Elm Street, Suspiria, The 1963 Children Of The Damned, Salem's Lot… So many GREAT Horror movies to name! I could go on and on. Late night with Joe Bob Briggs was the way to go!
SD: Are you inspired by music? What's something you might listen to for inspiration?
Heather: I love all sorts of music. When it comes to creating, depending on my mood, I normally listen to horror movie scores. My all time favorite in which I love and whom is almost a part of my brain is composer Akira Yamaoka. My favorites are from the Silent Hill video Games I can listen to them over and over and drive everyone around me crazy!
SD: You paint on stuff other than canvas. Your website shows functional art and furniture pieces as well as witch hats, coffins and even a telephone. Do you have a preference or is it whatever you happen to find you put to good use?
Heather: I love finding interesting pieces of old furniture. I love vintage objects that have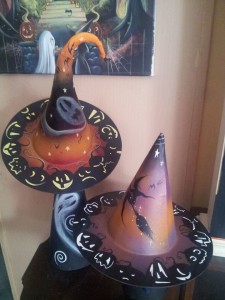 movement to them or great flow. Victorian furniture has wonderful handmade detail and great craftsmanship. Its very hard to come by now a days. I find a beat up piece and I redo it and give it life again. I'm kinda like Dr. Frankenstein 😉 haha. Found objects are much different from painting on canvas. I usually come up with a pattern to fit the piece and tell a short to the point story! Canvas I can tell a more detailed story laying out more images on the canvas. Again my moods are always changing and it depends on my mood at the moment. I may be working on a canvas then just get the itch to work on a functional piece. In one day I usually work on about 5 different pieces. I just love doing it all!!
SD: You're a professional artist who sells her canvases and prints but your stuff is also really cool. Ever paint something and find later that you just can't part with it?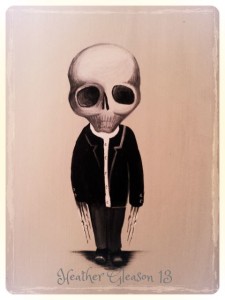 Heather: YES YES!! Some pieces were very hard to part with. BUT the funny thing is, usually the ones that are the hardest to part with are going to collectors I have grown close to and I am still close with till this day. So it feels good to know these pieces are being appreciated and being taken care of. They go to good homes. I have some pieces that I have created and still own and refuse to give up. They are mine but MAYBE one day I may part with them….maybe not haha!
SD: In your Halloween series you have lots of scarecrows, witches, skulls, and devils. Any favorites among the four?
Heather: OOOOH boy!!! I love them all they are like my kids!!! I love each one because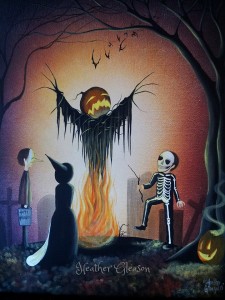 they are so different and you can thank my REAL children for that. They inspire me in so many ways you have no idea. The witches are mysterious, powerful, beautiful. I try to keep them neutral- not being scary. Skulls and skeletons I like to make them somewhat innocent; fun, yet dark- a reminder that death can happen at anytime no matter what, no matter the age. It is waiting for us all. The scarecrows I would like people to see as an object made by man hanging there miserable, creepy. They are there to mock and frighten. Now the devils are mischievous, happy, curious; like little children. I find them to be playful and never scary or creepy. Its the playful wacky side that everyone has but at times most people never see as they are to scared to show 🙂 I am more of the devil I am a big kid and show this side often!
SD: Do you have your Halloween costume picked out yet? There?s only 93 days left!
Heather: Weird thing as I was just discussing this last night. Seriously I was thinking a Cenobite from Hellraiser hahaha but that may change.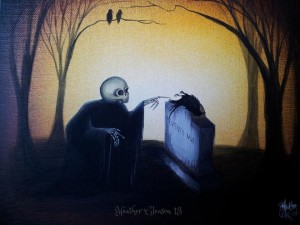 SD: Do you have anything else you'd like to say before we close?
Heather: I will be doing a kickstarter in September to help me get a booth for the 2014 San Diego Comic Con. I will be promoting several books I have coming out.
One coming out this fall is called. "The Mysterious Spooky Stories Of My Eclectic Mind" filled with my spooky images. Each image will have a spooky poem or short story to go along with it 🙂
SD: I will certainly be watching for that! Thanks again for taking time out of your schedule to talk with me. I'm honored and not a little envious of your talents.
Heather: Thank You Scarydad, it was a lot of Fun I always have time for fellow Spooky Friends 🙂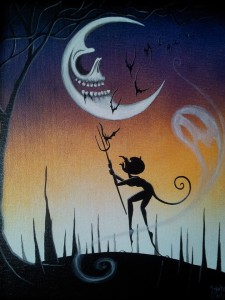 Contact Heather and buy all of the things! Her Facebook fan page is: My Eclectic Mind The Art Of Heather Gleason and her personal website is www.MyEclecticMind.com and of course there's the awesome Etsy shop!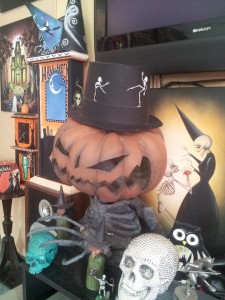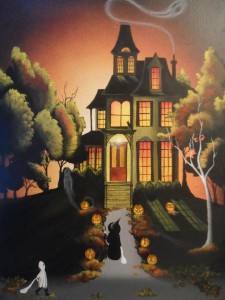 If you liked this post please consider joining our email list, liking us on Facebook, or following us on Twitter and Pinterest using the various buttons scattered about the site. Also, please let us know how we're doing by leaving a message in the comments section below.

Copyright secured by Digiprove © 2013